Mowney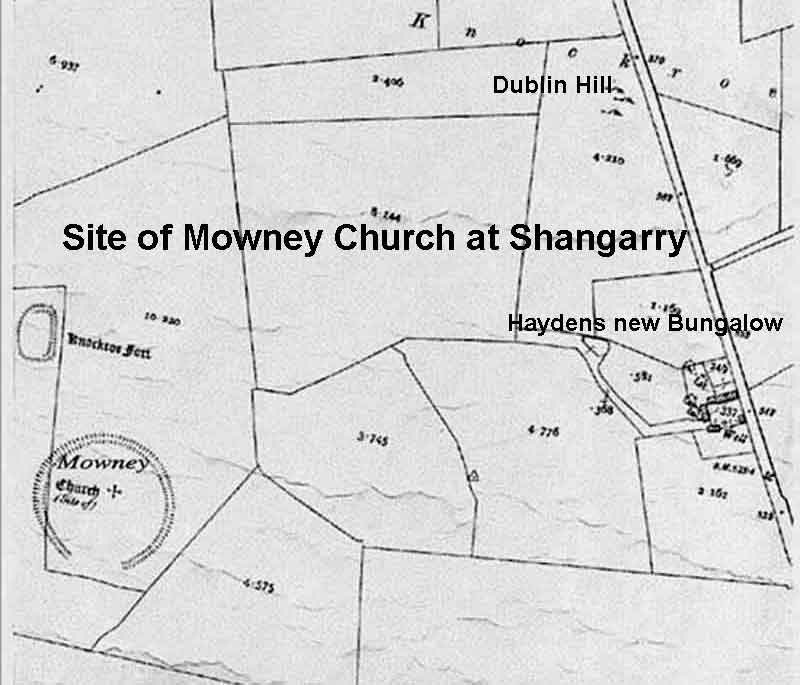 (Mowney)"Magh Abhna" 
Magh Abhna or Mowney translates as "the plain of the river". It is situated in the Townland of Shangarry. The outline of the church site can be seen in the corner of a field adjoining the fort of Knockroe.   The survey of 1302 – 7 (survey type unknown, probably ecclesiastical) Identifies the parishes in "Slefardach" (Slieveardagh) before 1200 as:-
Church of Balibynnurd (Ballinure)
Derenflan (Derrynaflan)
Scornan (Graystown)
Lismol (Lismolin)
Baligraffny (Killboy near Laffansbridge)
Church of the vill of Goddard (Lickfinn)
Moyrachne (Mowney)
Kilbrenyn (Kilbrennal)
Kildenale (Killenaule)
Rectory of Boulegh (Boulic)
De Garda ( Gare alias Ballingarry)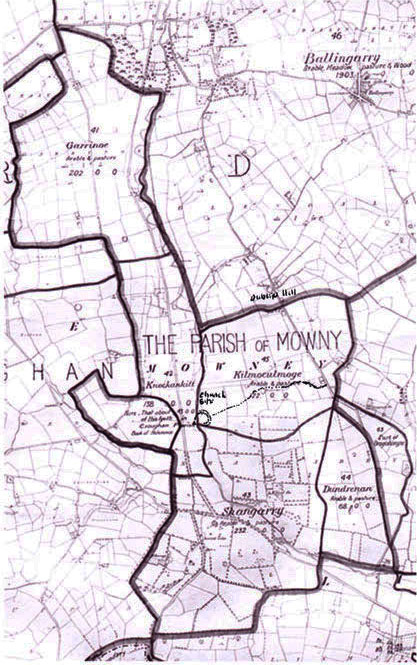 Mowney Parish is mentioned in the Papal Taxation lists of 1294 and 1302 and in the visitation list of churches made by Archbishop Richard O' Hedian in 1432. Entry to the location is by a short disused boreen near Meaghers, (Gragaugh). An identifiable passage running west by a whitethorn hedge from the gate would seem to have been the road to the church site. The area is drained by the Kings River. The old name being the River Guinagh
In dry hot summers the outline of six or more circular foundations, approx. 8 – 10ft Dia. can be seen on the higher ground overlooking the site of the church, (as recorded on the Ordinance Survey sheet for the area). This could indicate Beehive type huts or dwellings in a community type site.   In a brief history of the Parish of Ballingarry by Very Rev. W. Canon Fitzgerald, P.P., V.F. mention is made of the ancient churches of Lismolin and Crohane in ruins, Ballingarry still in repair in 1615. There is no mention of Mowney church, probably no longer in existence. Lismolin parish was at one period catered for by the monks of Hoare Abbey, Cashel. Hoare Abbey and all its possessions were confiscated by Henry 8th. Post reformation the Church was rebuilt by the reform church as a place of worship.
Griffith Valuation: Parish of Mowney

Crohane is recorded as a Parish and holy place of pilgrimage for many centuries going back at least to the year 800 AD. The Patron Saint of Crohane is St Sinech, daughter of Fergna of "Cruachain Muighe Abhnae". A Celtic Saint of the 6th century. Her feast day is Oct 5th.
The Survey of the Barony of Slieveardagh and Comsy 1654 describes the boundary of the parish and the acreage of each townland, Shangarry (360 acres), Garrynoe (500acres), "Dundrenan" (200 acres), "Knockankit" (200 acres), and "Kilmoculloge" (200 acres), (the latter three are now part of the townland of Shangarry). In the Primary Valuation, October 1850, Mowney parish was shown to have a total of 1,522 statute acres. The owner/landlord was Pierce Lord Viscount Ikeryn, described as an Irish Papist. His residence was Lismolin Castle now owned by the Mulally family.
The Parliamentry Gazette of Ireland 1844 – 45 states this parish is a rectory, and part of the benefice of LISMULLEN [which see], in the dio. of Cashel. Pop. in 1831 was 400, in 1841 was 428, houses numbered 63. Tithe composition, £92 – 6s – 2d . The surface consists of excellant land; is drained by the Kings river, and traversed by the road from Littleton to Mullinahone. In 1834, "the protestants amounted to 22. Roman Catholics to 398, and there was neither church, chapel, nor school". ( The tithes in 1640 were £12 – 0s – 0p. and were divided between the Parishes of Kilcooly and Crohane) This was the Penal Laws period in Irish history. Dr. Kearney Archbishop of Cashel 1603 – 1624 was at one time the only Bishop officiating in Ireland. His reports are preserved in Roman Archives
The name Mowney is derived from the Irish "Magh Obhann" meaning "plain of the river" It is interesting to note that Crohane Parish to the west of Mowney, in Irish is "Cruachan Muighe Abhanae" meaning the round hill in the Plain of the river.
The site of the Church overlooks the ruin of Shangarry House, where the wife of Bishop John Butler (also Butler, a cousin) once Catholic bishop of Cork and subsequently 12th Baron of Dunboyne (see "In quest of an heir" Thurles Library) was born, and where they lived for some years after the Bishop had apostasized 'circa' 1786