Derryvella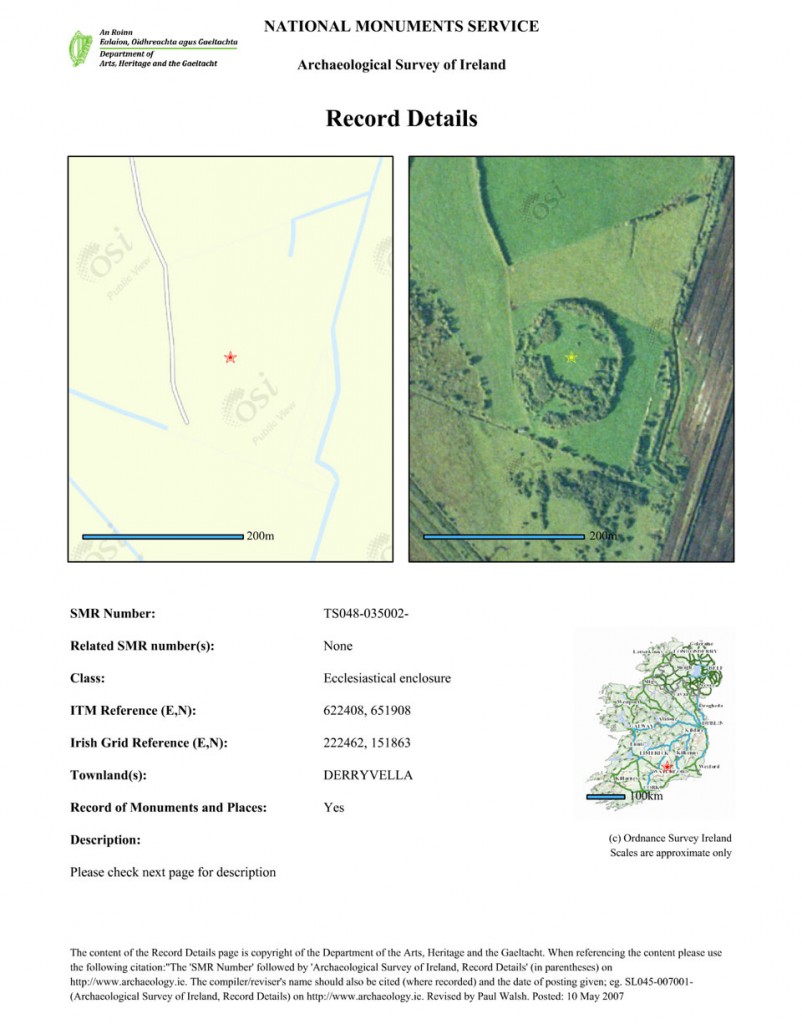 Description:
In grassland atop a natural rise of ground surrounded on three sides by Derryvella Bog, with good views in all directions. According to Gwynn and Hadcock this was the site of the early Christian monastery Daire Mør which was associated with Bishop Colman, however, recent research has identified the church at Longfordpass North in North Tipperary with Daire Mør and not Derryvella as once speculated (Manning 1997). O'Donovan associated the monastery with Doire Meille founded by St Tigernach whose feast day was on the 4th November and was regarded as the second oldest churchyard in Ireland and one which the pope is obliged to mention once a year (O'Flanagan 1930, vol.1, 159). This monument is heavily overgrown with sloe a thorn bushes, though the morphological features are visible on an aerial photograph taken in the 1960s (CUCAP 1965, ALV 63; 1966APA29).
An ecclesiastical enclosure consisting of a large cicular enclosure (diam. 150m N-S; 125m E-W) defined by an earth and stone bank (base Wth 4m; top Wth 1.5m; int. H0.2-6m; ext. H 1.7-0.8m) and shallow external fosse (Wth 2m; extD 0.1m) with possible entrance feature (Wth. 5m) at the W. Off-centre within this large enclosure is a somewhat smaller circular area (100m N-S x 125m E-W) defined by a scarp (H 1m) located immediately SE of church (TS048-035001-) and is visible SE through S to W only, at the W it runs onto an outer enclosing feature where there is a possible entrance gap (Wth 5m). This scarp is located 30m to the N of the enclosing feature and the chirch is located 40m to the N of the outer enclosing bank. Enclosing the scarp there is evidence of an inner fosse (base Wth 3m; top Wth 7m; ext. D 1.7m) and external bank (Wth 6m) visible from SW to W which is different from the enclosing element elsewhere on the monument, the presence of an inner fosse may suggest a prehistoric origin for this evidence
Compiled by: Jean Farrelly
Date of upload: 26 August 2011
Tighearnach of Derryvella (Doire Mheille) parish of Kilcooley, barony of Slieveardagh, Co. Tipperary.
Lough Doire Bhile (Derry-vella) Ecological Loop Walk
Lough Doire Bhile is now an established angling centre, this site has recently been upgraded to facilitate access through the 17 acre site. Gravel pathways interweave this stunning natural amenity taking the walker around the lake, over streams, through the wetlands and assist access to the ancient monastic site of Derryvelle.
The sparse vegetation means that wild flowers get a chance to grow and this means butterflies can thrive here. One can see the following species; Dingy Skipper, Brimstone, Orange-tip, Green Hairstreak, Speckled Wood, Wall and Small Heath. Enthusiasts search for the illusive Marsh Fritillary but to date no sighting has been recorded. The bare ground is where you'll see the Green Tiger Beetle. This beetle is a brilliant green colour with two yellow spots on its back. It runs very fast and if you get too close it flies away very quickly.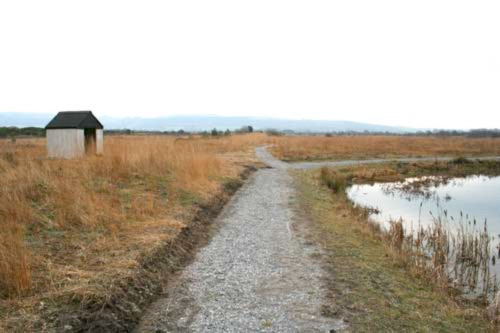 Located between the major tourist centers of Kilkenny and Cashel is the area known as the Slieveardagh Hills. The area is adjacent to the major urban centres of Thurles, Cashel, Clonmel and Kilkenny. It can be approached from the N8 at Urlingford or from the N76 via Ballingarry. The medieval, walled town of Fethard is nearby as is the Widow McCormack's 1848 War House in Ballingarry.
The area consists of patches of bare ground and some sparse vegetation with a few alder saplings growing here and there. With so much reclamation, re-seeding and fertilizer being applied to so much marginal land, areas with sparse vegetation are quite scarce in Tipperary. This area at Doire Bhile now has three pairs of breeding Lapwings. These birds may be common in winter but they are declining in Ireland as a breeding species. In fact, the Lapwing is now on the Red list of Birds of Conservation Concern.