Kilcooly
Kilcooly Abbey  (Interpreted in Stone by Philip Quinn)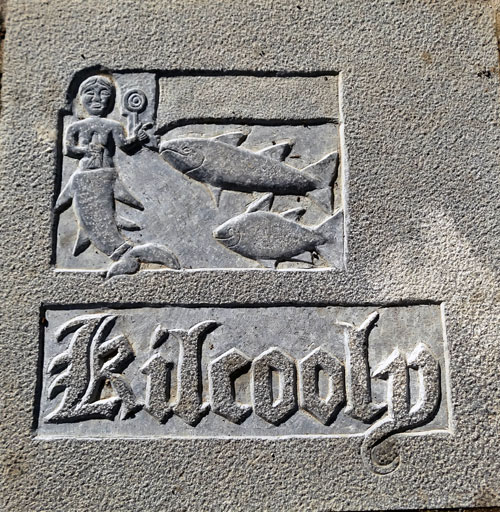 The beautiful and unusual carving of the Mermaid is inside Kilcooley Abbey.  The Cistercian Abbey was founded in the 12th Century and had connections with Holycross Abbey and Jerpoint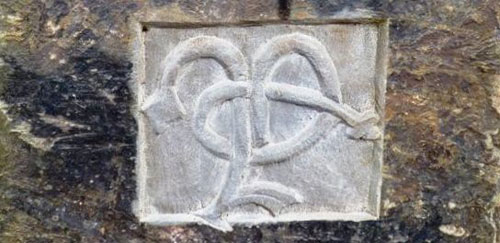 R (insert image of the "R"?)
This stylised "R" is part of an inscription from a tomb in Kilcooley Abbey.  The full inscription reads "Rory O Tunney Made Me".  Rory O Tunney was from the the 'O Tunney School of Carving', a family of sculptors from Callan, Co Kilkenny.  This "R" was seen as Rory O Tunney's "autograph" and would have been considered a very prestigious addition.
Abbey.  The Mermaid at Kilcooley is said to be a symbol of vanity and human weakness – this is represented by the comb and mirror she is holding.
Barker Pyramid Tomb.
The pyramid is a cut-stone structure and forms part of the Barker family tomb.  The significance of this pyramid is unclear but it could possibly have Masonic connotations or be related to Egyptology and archaeology, which would have been very popular around that time.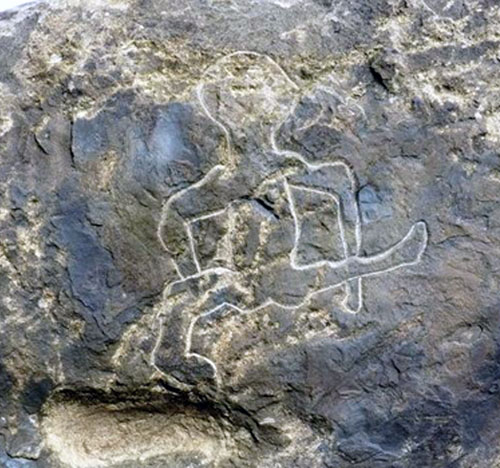 SILE NA GIG
Sile Na Gigs were figurative carvings of naked women, found on churches and castles and were seen as fertility symbols.  These carvings are said to ward off death and evil and are often positioned over doors or windows, presumably to protect these openings.  This is a copy of the Sile Na Gig from Kilcooley Abbey.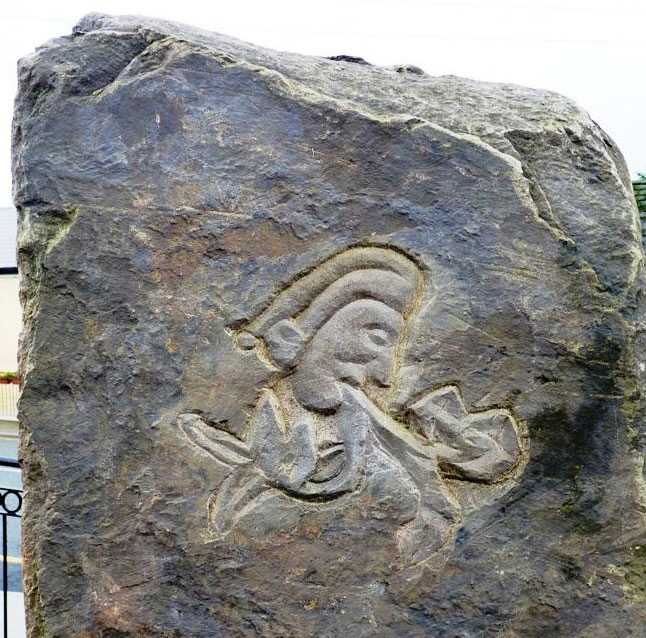 The Green Man
The Green Man is a sculpture of a face surrounded by or made from leaves, often with branches or vines sprouting from the nose, mouth or nostrils.  These were often found in churches.  This Green Man is unusual as it appears in side profile, as opposed to the normal face-on view.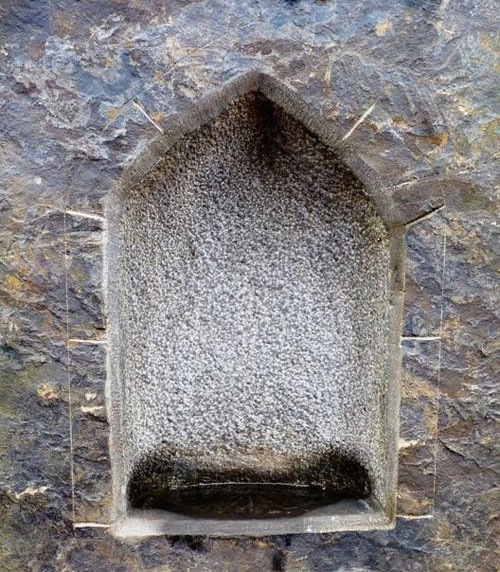 The Holywater Font
The Holy Water Font is in the shape of a Cockle Shell, which is representative of St James.  To this day the shell is known as the Pilgrim's sign, the sign of the wanderer, the traveller from far lands.  Another interpretation is that the shell resembles the setting sun and was an ancient Celtic symbol for the area of Finistere – Land's End.  The early church may have merged the legend of St James with the Celtic myths.