Ballynonty Village
The Garden of Remembrance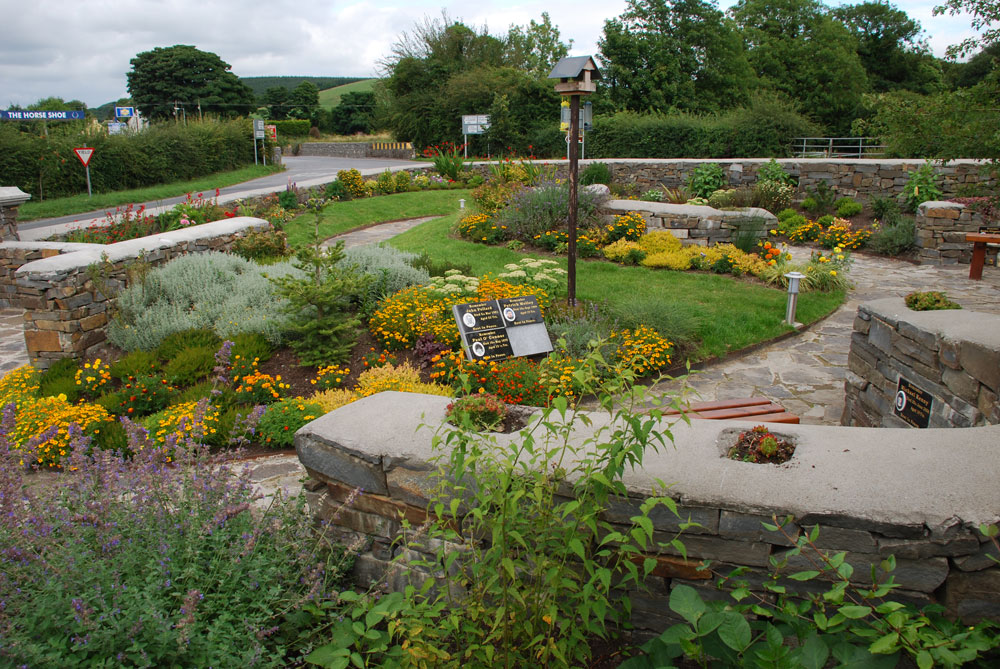 Loved ones, friends and family members who tragically lost their lives on the country roads near the rural village of Ballynonty near Slieveardagh, will never be forgotten as a garden of remembrance, in their honour, was officially opened last Monday.
A huge community effort which saw neighbours and friends work side-by-side for the past six weeks ensured that the remembrance garden was completed for its unveiling which attracted a huge gathering.
Well known community worker and longtime volunteer Janie Murphy, aged 92, performed the ribbon-cutting duties in the presence of vice-chairperson of South Tipperary County Council Cllr Michael Murphy, the organising committee chaired by Cllr John Fahey, along with families whose lives have been touched by the tragedy of a fatal road traffic accident.
Thirty six people have died on the roads in and around Ballynonty over the past number of decades and photos of these people have been erected in the garden, keeping their memory alive and providing their loved ones with special place to visit them.
The remembrance garden, built on a piece of unused council-owned land, was designed by Holycross-based artist, Philip Quinn, formerly from Killenaule. A committee was formed just six weeks ago to push ahead with the idea, taking it from design to reality with the financial assistance of the South Tipperary Development Company and local fund raising initiatives, as well as help from Sr. Patricia Wall from the Slieveardagh Rural Development Company and a local Community Employment (CE) scheme, under the supervision of Tyrone Walker.
"This was a huge community effort," said Cllr John Fahey who is the chairperson of the remembrance garden committee.
"Nearly everyone was involved, if they weren't working there, they were there in spirit," he said, adding that he believes that this garden is the first of its kind in Tipperary. The remembrance garden concept was something that had been in people's minds for some time and he said that it was wonderful to finally see it come to fruition. Cllr Fahey, who walks three miles every day, said that he witnesses first-hand what it is like to be on the busy country roads nowadays, along with so much traffic. He appealed to people to ensure that they are visible while out on these roads.
"This garden is a reminder to everybody of how frail the human body is and I am appealing to people, when they are out walking on these roads, that they wear appropriate high-visibility vests and I would ask motorists to slow down when driving on country roads."
Liam Ryan, whose son Pat was killed in 1983 after he was knocked down at the briquette factory near Ballynonty, is one of the many people who has been involved in the building of the remembrance garden for the past number of weeks. He said that it was a lovely tribute to the people, including Pat who was just 19 when he died, who have lost their lives on the roads and said that he was delighted to have had the chance to take part.
"It has been a great community effort and it is important to remember people at this garden." Pat said that he could clearly remember the night that he and his wife Lil lost Pat, the eldest in a family of three boys and one girl. They came upon the accident as they were driving home from an engagement.
"We were on the way home from the Holycross Novena which was on at 9.30pm that evening, so it was later that night. We came along the road and saw that a number of cars had stopped. We pulled up too, and do you know, we didn't get a shock, we almost had a feeling, as though we were almost prepared for it," said Liam.
Pat, who was walking with a friend that night, lived for about 20 minutes after he was knocked down.
"I was numb, just numb," said Liam.
He said that he could never shed a tear for Pat for many years until the day before his other son married, more than ten years later. Liam was in the bank doing some business and an innocent question of how many he had in his family stopped him in his tracks. He left the bank and went to his car, where he cried for 15 to 20 minutes.
When asked how such a tragedy impacts on a family Liam responded: "It is hard to describe it, you never forget but you learn to live with it. It is the first thing in the morning and last thing at night that you think of," he said.
Cllr Fahey thanked everybody who worked so hard to reach the end result, with a special mention to Gleeson Quarries in Laffanbridge, Killenaule Stone Quarry and Perry's Shop Ballynonty who were integral sponsors of the project, The garden was blessed by Canon Liam Ryan, parish priest of Killenaule and Fr. O'Rourke from Glengoole.