The Commons
An Aerial view of The Commons village

(appreciation to Ballingarry Parish Journal Committee for this photo).
John Joe Barry Monument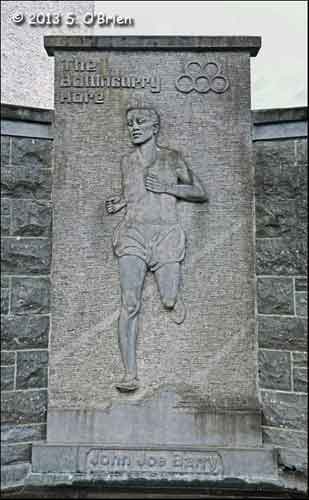 The John Joe Barry monument remembers the feats of a local athlete who was a champion middle distance runner in the 1940s and '50s. Known affectionately as the ' Ballingarry Hare', his front running tatics brought him international recognition. He was the first Irishman to benefit from a Villanova athlete scolarship and he held world records at his peak. He competed first with Ballincurry Athletic Club and a plaque at Ballincurry Cross records this aspect of John Joe's career.
John Joe Barry was one of the fastest men in the world in the late 1940s and many people expected him to be the first to run a mile in less than four minutes.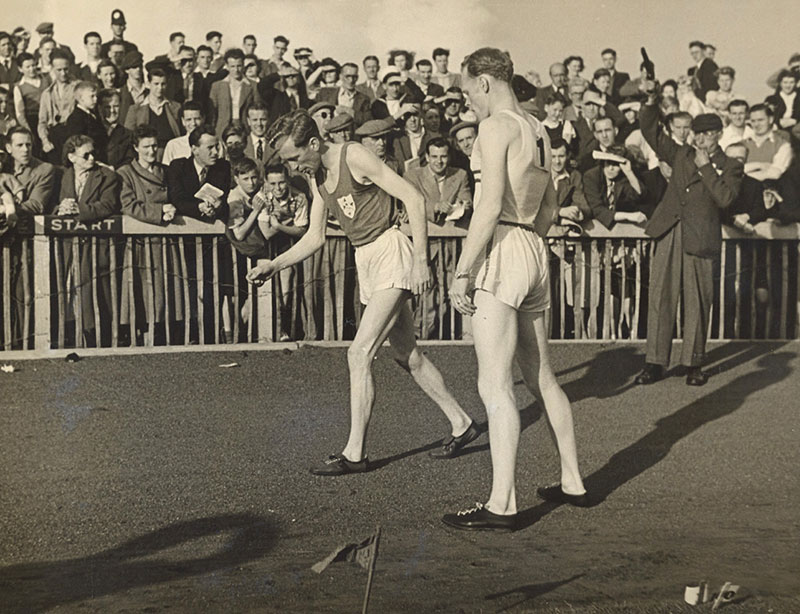 John Joe Barry, the 'Ballincurry Hare' (in-the-dark-vest) at Helenvale Recreation Ground in 1949,
On 28 June 1949, he attempted to break the mile record at Glasgow Corporation Transport's Helenvale Recreation Ground in Parkhead. Also in the photograph are Mr Evans, the GCT starter, and O Jonsson from Reykjavik.
It was Roger Bannister who ran the first sub-four minute mile. This was finally achieved on May 6th 1954 at Iffley Road Track in Oxford, with Chris Chataway and Chris Brasher providing the pacing in a time of of 3 min 59.4 sec.
MEMORIES OF DANO'S CLASS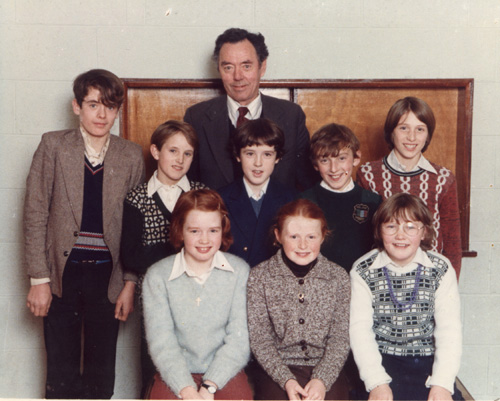 Pupils of 6th Class Slieveardagh NS The Commons with the Principle the late Dan O'Connor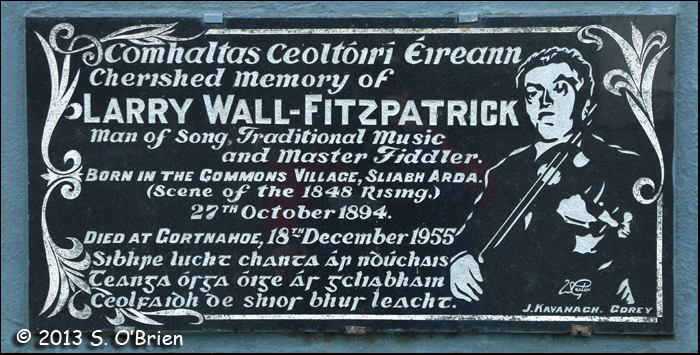 The Commons Company
 2nd Tipperary Brigade Old IRA 1917-22
The Commons company of the 2nd Tipperary Brigade was formed in 1917. The full record of this band of warriors exists in its original hand written state and it is from these records that the following information is taken.
The following is the list of the original members — John Preston. Thomas Purcell. Richard Purcell. Daniel Walsh. William Preston. John Lalor, Michael Kennedy. John Kennedy, Edward Dwyer. Daniel Kealy, Tim Scott, AJ.Wall, John Kealy, Phil Stokes, Richard Mitchell, William Mitchell. Brian Cormack, Hugh Connack. John Brett. William Teehan, John Hayes, Thomas Brophy, Sass Burke. Patrick Gorman, Pat Heaphv. Nicholas Dunne. The Officer in Charge was Michael Kealv. The weapons that they possessed consisted of some shotguns and revolvers. They engaged in drilling and organisation in the 1917-18 period.
The first action of the company was recorded in 1919. In November and December of that year they raided Kilcooley for arms and succeeded in procuring 'five or six shotguns'. In March 1920 they raided the Slieveardagh Coalmines. They succeeded in capturing a large quantity of blasting powder, gelignite. detonators etc. This material was later used in the destruction of Drangan Barracks and the disused barracks at Ballingarry, Earlshill and Tullaroan. The capture of Drangan Barracks took place in June 1920. It was burned out after about a seven hour fight. A large quantity of rifles and ammunition was captured. In August 1920 an R.I.C. dispatcher was captured. 'A bicycle, a uniform and dispatches were captured'. In September 1920, two ex-Brilish soldiers were arrested by the Company for 'disobeying a Sinn Fein Court'. Another man was arrested for 'misconduct' These men were arrested and banished from the district for dis-obeying a Sinn Fein court order. The two ex-soldiers later rejoined the British Army and gave information, as a result of which seven members were sentenced to 5 years penal servitude. In October 1920 they ambushed an R.I.C. patrol at Ballingarry. However, owing to the approach at the time of a car with children in it, the ambush was limited to the capture of a man and a rifle. The R.I.C. members escaped in the car.
In November 1920 five of the Company were arrested and Richard Mitchell and Michael Kealy went on the run. The five arrested were J.Kennedy, P. Stokes. T.Scott, B.Cormack and J.Teehan. All were sentenced to 5 years penal servitude in Cork Prison. In December 1920, the Company staged an ambush at Gortnahoe for an R.I.C. patrol but after lying in waiting for three hours, the patrol failed to turn up. In January 1921. Michael Kealy was arrested and Hugh Cormack assumed the role of Officer in Charge.
In February and March 1921 the Company was engaged in blocking roads. guarding column, scouting etc. in March an ambush took place at Poynstown which resulted in casualties for the enemy. Au ambush was prepared at The Commons on an R.I.C. patrol but it failed to show up. This occurred in April and a short time later a similar attempt was made.
The period from May 1921 to May 1922 was labelled the 'Truce Period". In July 1921 they made a dugout and the final list of members who were involved was as follows — O.C. Hugh Cormack. D.Kealy, T.Purcell. J.Preston, J.Lalor, W.Preston, T.Brophy, Ed.Dwver, P.Heaphy. W.Power. W.Brennan. R.Cleary. J.MullaIly. P.Lahert, M.Kellv, J.Kealy, W.Teehan, W.Mitchell. M.Kennedv. D.Walsh, P.O'Brein. J.Cormack. J. Gorman. J.McGrath, J.Hayes etc. The records conclude with the sad and terse words 'May 1922. the split'.
Footnotes
Further research into the imprisonment of the members led me to the National archives in Dublin where I was able to examine the actual entries book of Cork Prison. The following entries appear…
John Kennedy. Grawn, The Commons. Age 25. Next of kin, his father. Philip Kennedy. Offence; Under section 67 R.OI.R, he falsely imprisoned one Daniel Sheehan. Court from which committed; F.G.C.M. (Field General Court Martial.) Sentenced to 5 years Penal servitude. Was committed to Cork Prison on 13th January 1921 ,and was sent to England on the following day.
Brian Cormack. Boulea, Age 22. n.o.k; His father, Edward Cormack. Occupation, Baker. Same Court, sentence and deportation.
Timothy Scott, The Commons. Age 25. N.o.k, His Father, Timothy. Occupation, Blacksmith. Trial and sentence the same.
Richard Mitchell. Boulea. Age 22, N.o.k, His Mother, Kate.
Trial & sentence the same.
John Teehan. Age 38. Next of kin his Sister, Mrs O'Connell. He was sentenced to 3 years penal servitude and sent to England
Philip Stokes. Age 48. occupation, Carpenter. He was also sentenced to 3 years penal servitude and sent to England.
Michael Kealy; Address, The Commons Thurles. Next of kin, his father, Daniel. reference number 269-20 63. age 24. Height, 5' 8" Brown hair, grey eyes, fair complexion. Cut mark on back of left thumb. Scar under right eye. Single. Roman Catholic.
Committal date, 31/01/1921. Offence, Section 67 R.O.I.R. falsely imprisoned one Daniel Sheehan.
Court from which committed, F.G.C.M (Field General Court Marshall)
He was sentenced to five years penal ser vitude and sent to Mountjoy Jail on 23/2/1921.
From there he was sent to Portland prison in England where he remained until 22 /04 /1921 when he wastransferred to Dorchester Prison.
The present Governor of Dorchester Prison supplied the following information "He was transferred to Dorchester Prison from Portland on Friday April 22nd 1921. The expiration of his sentence was 25.1.23 but with remissin 29.9.22. However he was actually released on 13.1.22."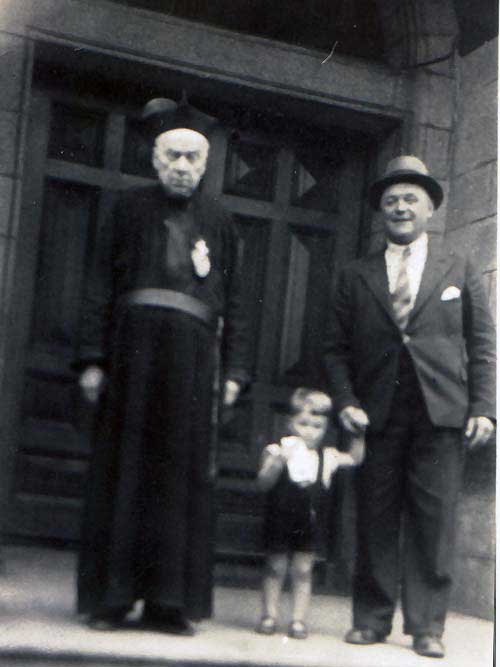 Photograph of Michael Kealy taken in 1938 on the Steps of Mount Argus, Dublin with his Uncle Fr. Columban Tyne of Kilbraugh (Cross & Passion Order) and his son Donal
In addition to the above prisoners listed in the admission book of Cork Prison at the time the following of local interest were also admitted for their part in the fight for Irish Freedom.
Peter Burke, Farranrory. Was charged with having seditious documents and was convicted at a Court Marshall in Cork and sentenced to 6 months in Kilkenny Jail on 8.2.1921.
Martin Mullally, Drangan. Charged with "being in possession of seditious documents", Sentenced to six months.
James Morris, Crohane. Age 21. Charged with "(a) Being an Irish Volunteer. (b) being in possession of seditious documents". He was sentenced to 6 months from 11.5.1921.
William Johnson, Killenaule. Charged with "having explosive substances and seditious documents". Sentenced to 1 year hard labour and removed to England on 13.12.1920.
James Moloney, Drangan, age 21. Was charged with" unlawful assembly with intent to endanger His Majesty's Forces" He was sentenced to 18 months from 11.1.21 and removed to England.
The original documents of The Commons Co. of the Third Tipperary Brigade are in my posession and if anyone would like to inspect them they are welcome to do so.
Donal Kealy (Glengall)