Ballingarry Parish Priests
The deanery of Ballingarry, on the eastern (Co.Kilkenny) boundary consists of five parishes:
Ballingarry ; Drangan; Gortnahoe ; Killenaule; Mullinahone.
(Appreciation to Billy Walsh for the following)
SUCCESSION OF PASTORS IN BALLINGARRY PARISH
Rev. Andrew Denton – 1303
Rev. Philip Cahill – 1471
TRAVERS, THOMAS, PP Ballingarry in 1652
He was one of the clergy who signed the postulation for Fr.Fabian Ryan, OP, STM, as Archbishop of Cashel, 1652 (APF, Fondo di Vienna, Vol.xiv,ff .87,88,93,94).
KELLY, WILLIAM, PP Ballingarry—Crohane—Lismalin 1704
He registered in Nenagh, 11/07/1704 as PP of the above parishes; he was then aged 72 and resided at Gragaugh, Ballingarry; he was ordained at Ferbane by Dr. Anthony Geoghegan in 1661 (IER, xii-522). No doubt he was PP in Ballingarry long before 1704, and according to tradition he was 50 years PP there and was buried in Lismalin. Perhaps the William Kelly who resided in Mohober in 1665-67 (Laffan: Hearth Money Records for Co.Tipperary, pp.34,139); possibly the William Kelly who was a witness to the will of Ellen Butler, dowager Viscountess of Ikerrin, of Lismalin, 28/12/1668; it is said that Fr. Kelly was closely connected with the Ikerrin Butlers.
LONERGAN, LAURENCE, PP Ballingarry 1731—1756, Archdeacon
Believed to have been a native of Killenaule parish; possibly the Lorenzo Lonergan (presumably a student of the Irish College of St. Patrick of the Pure Conception and of the Holy Catholic Faith, Seville, Spain) who received orders in Seville as follows: Tonsure and Minor Orders, 19/09/1704; Subdiaconate, 'a titulo de Mission", 22/09/1708; Diaconate, 07/10/1708; Priesthood, 14/10/1708 (Arch.Hib.xxiv—138). The Protestant Report of Rev. Thos. Sharpe, Vicar of Killenaule, 30/11/1731, states that Laurence Lonergan was PP Ballingarry and had one mass—house and one popish school (Arch.Hib.ii—114).
.
Visitation of Ballingarry, 09/07/1752: chapel of Ballingarry, dedicated to the Assumption, in good repair; other ancient dedications in the parish listed. PP, Laurence Lonergan, had his collation to these parishes from Abp. Christopher Butler, so he was not PP before 1710 (Visitation Book, pp.85—87). Visitation, 10/07/1754:
Rev. Laurence Lonergan and his coadjutor, Rev.Jn. Maher; inventory; description of chapel; dedications; register is kept. The piece of ground on which the chapel is built was reserved by Mr.Fanning when he sold his lands to Mr.Jacob (ibid. pp.133—4). Fr. Lonergan was Archdeacon of Cashel but from what date has not been discovered. He died in 1756, aged 77, and was buried in the old churchyard of Ballingarry; his tombstone, the inscription on which is very worn, seems to record that he was 47 years pastor. His chapel was at Kilbaheen, a few hundred yards from the present church; he lived at Springfield, or Gortnecrohy (a house later occupied by a McGrath family). His will was proved in 1759 (Thrift's Index). The will of Con Lonergan of Gortnecrohy was proved in 1762.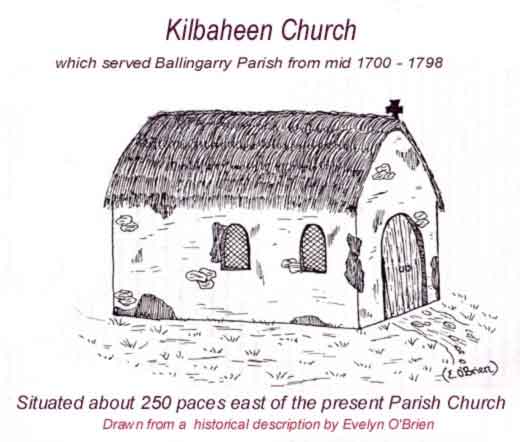 MEAGHER, JOHN, PP Ballingarry, 1756-1790
Born in Lismalin, 1709; ordained in Thurles chapel by Abp. Christopher Butler, 17/09/1742 (Visitation Book,p.106), and was one of the 10 priests of the diocese who took the Oath of Allegiance with Ahp. James Butler in 1781 (Arch. Bib. i—76). He was CC Killenaule, 1749—54 (Killenaule Register); CC Ballingarry and, on the death of Archdeacon Lar Lonergan in 1756, PP of the parish, formally inducted Jl/07/1758 (ibid.p.155—6). He died /07/1790 and was buried in Lismalin. The assertion that he was buried in the elevated part of Ballingarry graveyard does not appear to be correct; Hugh Callanan of Crohane, in his will dated 08/01/1792; stipulated that he be buried in Lismalin, convenient to the remains of Rev. John Meagher, PP Ballingarry; the will of Fr.Meagher himself, dated 24/06/1783 (proved 1796) directs that he be interred under the tomb erected by himself in the churchyard of Lismalin (.Callanan Papers in NLI). Fr. Meagher's sister, Anne, was the mother of Archdeacon Pat Fox, PP Mullinahone. Visitation, 1758: Fr.Meagher'S chapel was at Kilbaheen, a few hundred yards from the present church; PP keeps a register; schoolmasters were Thomas Keating, Thomas Kennedy and James Butler; dedications of sites..
WRIGHT, RICHARD, DD, PP,Ballingarry 1790—1804; – Kilbaheen,& Present Site
VO, Cashel 1804—21 Dean of Chapter
Born in Thurles, 1747, a member of a family who had become converts to Catholicism. Educated in the Irish College, Paris; he was the last student of the diocese for whom a collection was taken up prior to his going abroad. He was CC Killenaule, 29/04/1778—07/1790. He was then appointed PP Ballingarry. Possibly he went to France in 1780, and is the "Abbe Right" mentioned in Boyle's "Irish College, Paris", p.56. He was appointed PP Cashel and VG, 03/11/1804, and had a Papal Brief for the Deanery of Cashel, 20/12/1804 (13 kal. Jan.1805). In Cashel he lived in a house on the Terrace, on the east side of Lady's Well, which house was later occupied by John Davis White. Dean Wright died (before a new Archbishop was appointed) on 20/07/1821, in the 74th year of his age, and was buried in Cashel at the north gallery. Dr.Laffan, the future Archbishop, was then elected Vicar Capitular.
CAHILL, EDMUND, PP Ballingarry, 1804—1812 – Present Site
A native of Cloghetany (the part in Drangan parish) and a grand—uncle of Fr.Richard Cahill, PP Tipperary. He was present at Conferences in Thurles from 09/1793, and is found as CC Moycarkey in 1799. From there he was promoted as PP Ballingarry. He died in 1812, and is buried in Ballingarry chapel yard where there is a monument to his memory.
LUBY (LOOBY),THOMAS,PP Knockainy 1808-12; Ballingarry 1812—20 – Present Site
A native of Clerihan parish. Educated in Carlow Collage, 1796—1802; ordained c.1802. CC Cashel, 1802—05; CC Fethard, 1805—08; appointed PP Knockainy in 1808(?). He began the Register there (in a beautiful hand) 14/03/18?.; from that date until the end of the year, he baptized 197, in 1810, 132, and in 1811, 96. He was translated as pastor to Ballingarry 05/1812, and died there, 05/1820. He was buried in the old church but when the present church was built (1820—28) his remains were re—interred in the graveyard beside it. He is remembered for his piety and amiability.
PRENDERGAST, EDMOND, PP Ballingarry, 1820—52 –
Educated in Carlow College, 1809—12; ordained, 1812.
In Tipperary Conference area from 1812; found as CC Knockavilla, 1818—20, and possibly spent most of his curacy days there. He paid a pastor's cathedraticum for the parish of Ballingarry, 01/05/1820, but in 07/1820, at Dr. Everard's Visitation of Ballingarry. it is mentioned that the parish had no PP,and that Fr. Prendergast was "coadjutor". When Dr. Laffan became Archbishop, he questioned Fr.Prendergast's appointment as PP, but Fr. Prendergast was able to produce a letter written to him by Dr. Everard, in which he was described as PP Ballingarry. In 1826, however, he had to surrender the townlands of Upper Crohane and Lismolin to the projected new union of Drangan and Cloneen, as his predecessor had promised to surrender that portion of his parish. On 06/05/1828, he laid the foundation stone of the present spacious church of Ballingarry, and later erected a school in the chapel yard.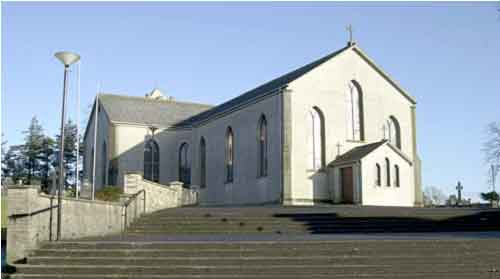 He also built a fine residence, which he intended to leave for a diocesan seminary; the erection of Thurles College frustrated this intention, so he left the house and land adjoining to his nephew, Mr.O'Donnell. His successor, Dr.Phil Fitzgerald, bought the house and land, and at his death left it to Abp. Leahy for a religious foundation; the Presentation nuns, Thurles, made the foundation. Faction fighting was rife in the parish in the 1820s and caused the pastor much trouble. In 1832, Fr.Meighan, PP Gortnahoe, disputed with Fr. Prendergast part of the boundaries of their respective parishes; both arranged for a Station 'in a house in the disputed area, and when they met they came to fisticuffs, for which both were suspended for a time. Dr. Laffan's decision on the disputed area was in favour of Fr.Prendergast. In his later years the PP became weak in mind and childish; though never an ardent politician he revelled in excitement; when he heard of the crowds around Smith O'Brien in Mullinahone in 1848, he went down there and put himself at the head of the insurgents as they marched towards Ballingarry. A few days later he was just as happy with the military; he was incapable of realizing what he was doing. He died of apoplexy, 15/07/1852, aged 64, and was buried in the church which he had built. Visitation, 1846: 584 confirmed;12 schools, only one National. Visitation, 1851: 560 confirmed; 9 schools with 625 pupils. Visitation, 1854: 552 confirmed; A National and 3 private schools for about 1000 pupils; new church on Pennefather property, no lease but prescription since 1798, when a church was first built on the site; no CC's collection. In 1837 there was an Erasmus Smith school in Ballingarry.
FITZGERALD, Dr.PHILIP, PP Ballingarry, 1852—69
A native of Lattin parish; his parents, Thomas Fitzgerald and Ellenor Meany, died of fever in Oct, 1817, aged 54 and 38 respectively; he was an uncle of Fr. John Murphy, PP Ballybricken, and grand—uncle of Canons William and Martin Fitzgerald. Said to have received some of his education in the Irish College, Rome; entered the Theology Class, Maynooth, 25/08/1831, and was ordained in Maynooth 24/05/1334 (Hamell). CC Kilcommon, 1835—36; 2nd CC Galbally, 1837; CC Kilteely, 1838—39; CC Cappamore, 1840; taught in a classical school in Doon, 1841—42; CC Ballingarry, 1842—52, during which time he saw the ravages of the Famine, and the abortive rebellion of 1848 — he wrote a short account of this insurrection; he also witnessed heart—rending evictions on Lord Desart's estates in 1850 (Life of Frederick Lucas, ii—217f). Fr.Fitzgerald was appointed PP Ballingarry in 1852, having been administrator of the parish for the previous two years. He died in 1868, and was interred in Ballingarry. When in Rome 07/1862, he obtained the degree of DD by papal brief dated 31/07/1062. He purchased a house and 27 acres from his predecessor in Ballingarry; these he left by will for a religious foundation; they were first offered to the Christian Brothers who declined the offer; Dr.Leahy then offered the premises to the Presentation nuns of Thurles who accepted; four nuns with Mother M.de Sales Ryan as Superioress opened a convent there in 1871; it flourished and prospered. Dr.Fitzgerald also left £680 for a burse for a Cashal student in the Irish College, Rome, and £400. for a place in All Hallows, Dublin, for a poor student from Ballingarry.
POWER, JOHN, PP Ballingarry, 1868—71
A native of Cleragh, Kilenaule, but perhaps born in Ballingarry; one of the original body of students who entered the newly opened College of Thurlas, 09/1837. Entered Logic Class, Maynooth, 25/08/1839; ordained 01/06/1844 (Hamell). CC Kilcommon, 1844—45; Cc. Donaskeagh, 1845—47; Cc Borrisoleigh, 1847—68; appointed PP Ballingarry, 1868, and died there 06/10/1871.
RYAN, Msgr.JOHN, DD,PP Ballingarry 1871, VG 1875—85
A native of Ballingarry, born 06/01/1831; brother of Rev. Phil Ryan. Entered Thurles College, 01/1847' and Physics Class Maynooth, 25/08/1849, and read a distinguishad course in both Colleges. Called to the Dunboyne Establishment, 1854—57; ordained in Maynooth, Pentecost, 1853 (Hamell). He became CC Moyne towards the end of. 1357; appointed Adm. ThurleS, 12/1863. With Dr. John Butler he accompanied Abp.Leahy to the First Vatican Council in 1870 as his theologian; the Abp. requested that he be granted the degree of DD, and on 31/07/1872, Cardinal Barnabo notified Dr.Leahy that the degree had been granted. He was appointed PP Ballingarry, 11/1871. When Dr.Leahy died, 1875, the clergy of the diocese voted Dr.Ryan "Dignissimus" for the mitre of Cashel but Dr. Croke was appointed to the see. On 12/08/1875, Dr.Croke appointed him one of his 3 VGs and Precentor of the Chapter; in the same year Rome appointed him a Domestic Prelate. His health was always poor and in the end he developed pulmonary tuberculosis, of which he died, 29/10/1885, in his 55th year. He was interred in Ballingarry. He was one of the most highly gifted, highly respected and best loved priests of the Archdiocese; humble, simple and even bashful; an outstanding preacher.
CANTWELL, JAMES, PP, Canon, VF, Ballingarry, 1885—1905
Born at Loughcapple, Killusty, in 1844; nephew of Dean Walter Cantwell (C33). Entered Thurles College;' 09/1860; at the "Revolt" on 26/11/1860, he walked out with the rest of the students but met his uncle, the Dean, in the town and was sent back to the College, so that he was one of the three students who were not "revolters". He was sent home next day and sent to Maynooth in Sept.1861 but was rejected and went to Carlow College for a year. On 28/08/1862, he was admitted to Humanity Class, Maynooth. He was ordained by Abp.Leahy, 12/07/1868, in the Ursuline Convent, Thurles, and was immediately sent to Fethard as CC to the Dean, his uncle. CC Thurles, 1876, and established the Holy Family Confraternity there that year; as Adm. Thurles, he supervised the building of the presbytery and a national school at Tonagha. When the Kickham funeral arrived in Thurles on Sunday, 27/08/1882, he refused to allow the coffin to rest overnight in the Cathedral, holding that he could not give permission in the absence of the Abp.(Dr.Croke). Appointed PP, VF, Ballingarry, 11/1885, built the boys' National School there and re—roofed the church. The Parochial House was built by the Presentation nuns, 1886; Dr.Croke gave them £500 for it, the PP to pay him £25 p.a. for the use of it. By direction of the Abp. the house reverted to the nuns after the Abp's death. The PP died 04/12/1905 (Dir.) and was buried in Ballingarry church grounds. He was a sterling Nationalist and took a leading part in the land agitation of the l88O's. He was appointed canon in 1889.
HICKEY, JAS. Canon, PP VF Ballingarry 1906—24; Templetuohy —1942
A native of Bishopswood, Knockavilla, one of a family of 24 children; brother, Fr. Phil, was one of the younger members. Entered Thurles College, 01/1871, and from there sent to Versailles to finish his studies; ordained in Thurles by Abp. Croke, 29/06/1876. On mission in Killaloe diocese (Borrisokane) to 1881; professor in Thurles College, 1881—87; CC Templemore, 1887—91; CC Thurles, 1891—1902; Adm. Thurles, 30/1l/l902—1906; appointed PP Ballingarry 01/1906. The chaplain to the Presentation Convent, Fr. James Maher, lived with him, and when Fr. Maher died in 1915, Fr.Hickey volunteered to do duty as chaplain to the nuns (rather than have another chaplain imposed on him.) Created Canon 21/02/1915; translated to Templetuohy, 02/1924; died aged 92 on 24/02/1942, and was buried in Templetuohy church grounds. During his declining years he had a second curate in Templetuohy. An impressive preacher, he discharged his duties with zeal and fervour; encouraged thrift and industry in a homely way; a fine horseman; gifted with wit, he had apt remarks for occasions, with a sting in the tail when such seemed called for.
NOLAN, JOHN, PP Ballingarry 1924; Tipperary 1932-42, ,VG Archdeacon
Born at Lurgoe, Killenaule, 25/07/1865, son of William Nolan, farmer, and Bridget Shelley of Graigue, Killenaule; brother of Fr.Tom Nolan and nephew of Fr. John Shelley, PP Cappamore (329). Educated in Thurles College, 1884—85; entered 2nd Philosophy class, Maynooth, 05/09/1885. After a distinguished course at Maynooth, he was ordained in Carlow by Dr.James Lynch, CM, Coadj. Bp. Kildare, 23/03/1890. Temporary mission in the parish of Allen, diocese of Kildare, 1890—99; CC Ballylanders, 1899—1900; CC Cappamore, with his uncle Fr.John Shelley, 1900—1909; appointed CC Tipperary, 18/04/1909; appointed Adm. of the mensal parish of Pallasgrean, 28/02/1914. In 02/1924 he was appointed PP Ballingarry and VF, and in 1925 he was elevated to the Chapter. Translated to Tipperary, 03/1932, and appointed VG, he was made Archdeacon a few months later and Domestic Prelate. He died in Tipperary, 15/11/1942 and was interred in the church grounds. Somewhat lanky and a little stooped, he was about 6ft.8ins tall, with mental and moral gifts comensurate, one of the outstanding theologians of the diocese, and an authority on Irish, European and ecclesiastical history; a man without guile, simple and unassuming; generous, charitable and the soul of hospitality, an entertaining conversationalist, beloved by priests and people.
FITZGERALD, WILLIAM, Canon, PP VF Ballingarry 1932—51
Born in Tipperary, "New Town", 22/03/1875, brother of Canon Martin, grand—nephew of Dr. Philip Fitzgerald, PP Ballingarry. Entered Thurles College, 01/1893, and Maynooth, 1st Philosophy, 09/1894; ordained in Maynooth by Abp. Wm.J.Walsh, Dublin, 17/06/1900. Temporary mission to Ardagh for 12 years; CC New Inn, 1912—14; CC Herbertstown, 1914—17; CC Cashel, 1917—20; CC Thurles 1920-30; Adm. Thurles to 1932, when he was appointed PP Ballingarry; created Canon, 29/04/1942. He died Sunday, 20/05/1951, and was buried in Ballingarry church grounds. He enjoyed good health up to a fortnight before his death, when he was suddenly taken ill and moved to St. Anne's Nursing Home, Thurles. After the removal of a kidney he rallied for a few days but then sank rapidly. A saintly, kindly, genial priest, the mighty concourse of priests and people at his funeral was a fitting tribute to his unselfish and devoted life. He was calmer than his brother Martin, though capable of occasional anger. He was deeply interested in the history of the Archdiocese and collected information on diocesan clergy;he indexed parochial registers; he left his valuable notes to his brother Martin. From 1943 he was National Secretary of the Society for the Propagation of the Faith.
LEE, MICHAEL J., PP Ballingarry, 1951-1964
Born in Lisvernane, Aherlow, 24/11/1895; his parents were teachers; brother of Msgr. Christopher Lee; two of his sisters were nuns: Sr.Moira Noreen Lee, Holy Name Sisters, Seattle, and Sr. Michael Lee, Mercy Sisters' Hospital, Cootamundra, Australia. Educated in Rockwell College, Thurles College, 1914—15, and Maynooth, 1915—22; ordained in Maynooth, 18/06/1922 by Dr.Sheehan, Coadj. Sydney, titular Abp. of Germia. Temporary mission, Los Angeles, 12/1922—09/1925; Professor and Junior Dean, Thurles College, 09/1925—03/1930; Diocesan Inspector of Schools in archdiocese, 08/1930 —06/1951; at his own request he was continued in this post for much longer than the usual term — he had a very happy way with young people. Appointed PP Ballingarry, 18/06/1951. He had a stroke in 1962 and was a patient in St.Joseph's Hospital, Clonmel, and then in Ballycarron, where he died, 15/10/1964. At the time of his death renovation of Ballingarry church had just commenced; after Office and funeral Mass in his brother's parish of Fethard, the remains were brought for burial in Ballingarry church grounds. Fr.Lee had an exceptional gift of oratory and his services were frequently called upon for religious functions. A lover of Gaelic culture and pastimes, he had a fine singing voice and was an accomplished performer of Irish music on flute and piano. He took a keen interest in Gaelic games and accompanied the Tipperary hurling team to the USA in 1931. He was a zealous and efficient pastor.
LEE, JOHN, PP Ballinahinch 1965; Newport 1970; Ballingarry 1974—83
A native of Glembrohane, born 02/05/1910; nephew of Rev.Rd.Lee who was ordained for Cashel diocese in 1903 but got an exeat to St.Paul, Minnesota. Educated in Thurles College, 1930—37; ordained in Thurles Cathedral by Abp. Harty, 13/06/1937. CC Ballinahinch, 11/1937 —12/46; CC Moyglass to 01/1955; CC Boherlahan to 03/1965; appointed PP Ballinahinch, 06/03/1965. In 09/1965 an arrangement was made whereby the curate in Ballina (Fr.Thomas Ryan) was also to act as CC Ballinahinch until further arrangement should be made, the revenue in Ballinahinch being insufficient to support a separate curate. PP Newport, 31/01/1970; PP Ballingarry 09/05/1974. Died suddenly while dressing, 30/04/1983
Morris Philip, CC Killenaule – PP Ballingarry 1983 to 2000
BREEN, THOMAS P.P. Ballingarry 1999 to 2011, P.P. Ballylanders 2011
A native of Donaskeigh born 10.7.1947 studied in St Patrick's college, Thurles 1965 to 1972. Ordained in the Cathedral of the Assumption 10.6.1972 by Archbishop Thomas Morris. – Worked in Brentwood Diocese 1972 to 1975, – Kerry diocese 1975 to 1977. CC Clonoulty 1977 to 1988, – Cashel 1988 to 1998, – Ballingarry 1998 to 1999
Quirke Derry, CC Lisvernane  – PP Ballingarry 2011