Fr James Doheny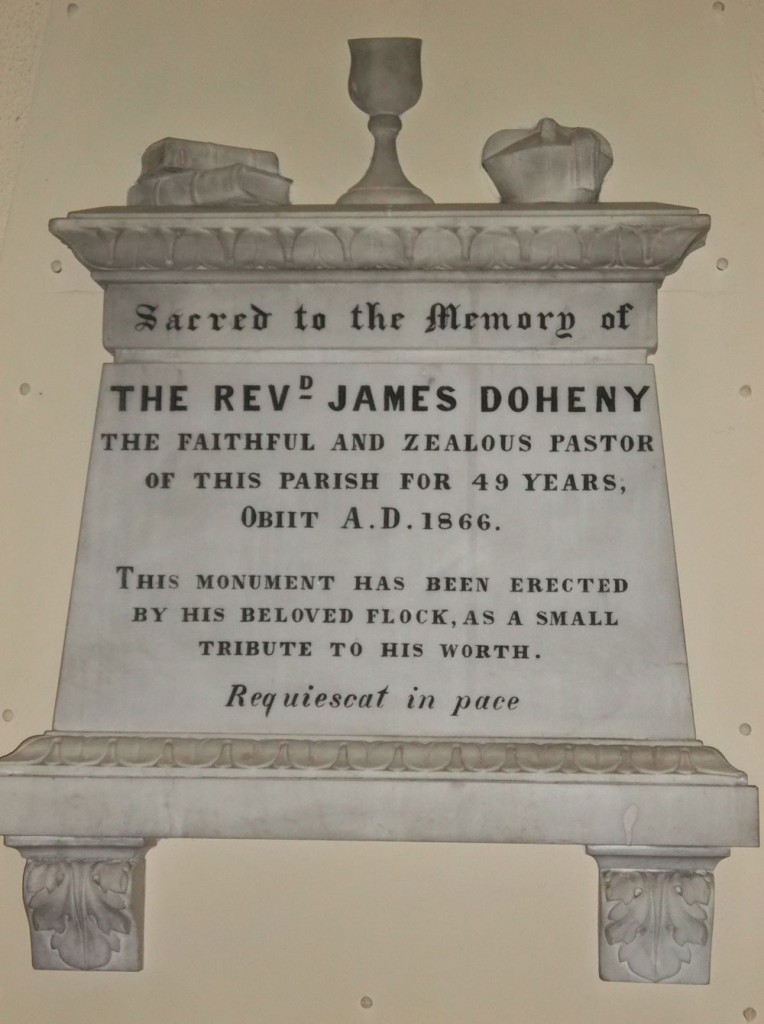 James Doheny was born in Shangarry, Ballingarry in the year 1786. An antecedent of the Late Maher family who lived close by Shangarry Bridge. He was able to receive a Catholic education in the parish schools.
According to the records in the Diocese of Cashel. James Doheny' studied in Carlow College Seminary from 1809 to l8lI. He completed his studies for the Priesthood in St Kieran's College Kilkenny from 181I to l8l3 where he was ordained by the Bishop of Ossory for the Diocese of Cashel & Emly. As a student James Doheny was involved in faction fighting, a regular occurrence in Ballingarry between the families of the Shanavests and of the Caravats. The Caravats war cry was "Stokes, Croke and Corcoran". These were the leaders of that party. The Shanavests invariably called their forces together with the cry of "Pollard, St. John and Rochfort" (ref..Dr. W. Nolan, The Master). This activity caused his refusal of ordination in Carlow, so he transferred to St. Kieran's College, Kilkenny in 1811 and was ordained in 1813.
Shortly after his ordination he received an exeat to the Diocese of Cork. It was on the advice of his Archbishop in Cashel that he transferred to Cork. Bishop Francis Moylan accepted him and we find him as a curate in the Cork City parish of St Mary's, Shandon. He was a curate with Bishop Moylan. The Cork Diocese was the natural choice for him. As a Tipperary man he must have felt at home among these four Tipperary Priests, three of whom were also born in Ballingarry parish.
Fr. Richard Quinn spent some vears in Dunmanway and was appointed Parish Priest of Durrus in 1819. He died in l853.
Fr. John Ryan was a long time PP of Drimoleague, from 1818 to 1844.
Fr. Daniel Prout who had been PP in Annacarthy was PP of Watergrasshill from 1817 to 1830.
Fr. David Dore spent 50 years as Parish Priest of Caheragh and the only non-Ballingarry Priest.
Cork diocese suffered greatly from a shortage of Priests. In 1800 it had just 63 priests whilst Cashel & Emly had 112.
'Bishop John Butler a native of Fethard held the See of Cork for 23 years being appointed by the pope in 1763. A member of the Dunboyne Butlers and the last of the line following the death of his brother without family, He finally decided to apply to the Pope for permission to get married to beget an heir and considered that being a Butler permission would be granted. He resigned as Bishop of Cork 12th. December 1786. The Pope refused his request to marry so he apostatized in 1887 to marry Marie Butler of Shangarry (Locally called the Bishops house) a near neighbour of Fr Doheny's family. He died May 7th. 1800 without begetting an heir, bequeathing his Dunboyne Estate to the Church with whom he had reconciled, He is buried in the Augustinian Abbey in Fethard. ('Read in quest of an heir')
In May 1818 Fr James Crowley PP was transferred from Dunmanway to Glanmire. Bishop Murphy of Cork decided to appoint Fr Doheny as PP for he knew in his heart that Fr Doheny was the right man for that Parish. On May 26th 1818 Fr James Doheny was appointed Parish Priest of Dunmanway. A few days after his appointment he left Cork City and headed West. As he passed through the beautiful wooded lands of Manch House, little did he know that hidden away in these trees was the home of Judge Daniel O'Connor, the man destined to be his great antagonist. In the face of the multiplicity of problems facing him Fr Doheny set out his plans for the building of three churches in the Parish, Dunmanway, Togher and Ballinacarriga.
The parish was dominated by the protestant Ascendency. There was a noticeable change for the better on the part of the Cox family toward the Catholic community but little on the part of the sub-landlords such as the O'Connors of Manch, the Gilmans of Darkwood, the Shuldhams of Coolkelure and the Norwoods of Ballyhalligh. Bishop Murphy wrote to him to encourage him in his church building projects, he wrote;" to the erection of the chapels I devote my energies and contribute myself, on all such occasions". The Bishop was true to his word and made a worthwhile contribution to the fund. Bishop Murphy was a member of the well-known Murphy Brewing Family.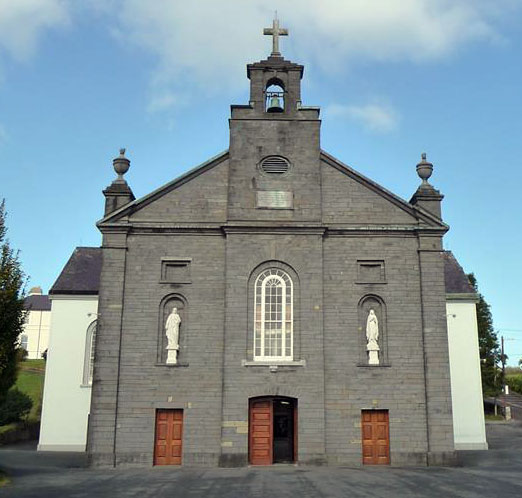 St Patricks Church, Dunmanway, Co. Cork
The church was completed in June 1837. We read of the Horse Fair of Ballinasloe which lasts for a whole week, Dunmanway had such a fair which like Ballinasloe attracted large attendances from all over Ireland for the week, Many deals were made, the event was a great boost to the economy of Dunmanway. However, for some years before Fr Doheny's appointment this well organised fair had become a bit of a disaster for the merchants and business people of Dunmanway most of whom were of the Protestant faith.
Every three card trickster, conman & conwoman would come to the fair which caused great angst among the inhabitants of the town of both religious persuasions. A short time after his appointment a deputation of the Business community met Fr Doheny at his home. They wanted to elicit his assistance in attempting to quell the riotous behaviour of the crowds that were arriving around the town for the fair. Fr Doheny listened attentively and when asked if he could help invited these businessmen to have up to 30 strong young men at the Parish Hall the following Tuesday at 8pm and to leave the "rest to me".
30 hardy you men of the town were at the Hall when Fr Doheny arrived with a sack of sticks, on closer examination these men realised these were the blackthorn stick or Shillelagh used in the faction fights of Tipperary but unknown in that area of West Cork.
He organised then into groups and taught them firstly the art of self defence with the stick, he then showed where to hit to hurt without taking a life and finally laid out plans for the Patrol of the fair in pairs, what to look out for and to deal immediately with any problems before they got out of hand. His methods proved a huge success, his actions were rewarded when his brother Thomas his wife and family arrived to farm a piece of land granted to Fr Doheny. His niece Mary Jane became his housekeeper.
Michael Doheny the Young Ireland stayed a few days in Dunmanway with Fr Doheny in 1848 after the Young Ireland uprising at Ballingarry before he emigrated to America, I can't confirm their exact relationship whether Michael was his Nephew or a cousin.
Fr James Doheny ministered as PP of Dunmanway until he retired toward the end of 1848. He continued to live in Lakelands until his death at 80 years of age on Thursday 5th April 1866, He was buried in the church he built on Monday April the 10th 1866. His commemorative Plaque is on the wall in the right return of the Church Sanctuary.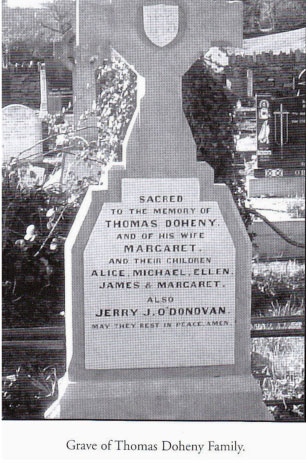 THOMAS DOHENY FAMILY
Shortly after Fr Doheny arrived in Dunmanway he leased some property that was to be his home for many years. His Sister Alice was housekeeper. About 1832 his brother Thomas, wife Margaret (nee Power) and their children arrived from Shangarry, Ballingarry to live in the Townland of Gurteenasowna, Dunmanway until 1856. They then leased a property from the Cox Estate. Thomas, Margaret and five of their children are buried in St Patrick's Graveyard beside the Church.
Alice Buried with her family in Dunmanway
James B. July 24th 1814 died in infancy, another James is mentioned
Mary B, June 1st 1816 Housekeeper for Fr Doheny, inherited Lakelands Died 1909
Ellen B. July 27th 1818 Married Timothy O'Donovan of Acres
Bridget B. January 10th 1821 M. John Maher Shangarry Feb 8th 1845
Catherine B.June 5th 1823 M. Maurice Dullea
Margaret B.Nov 7th 1827 Buried with parents
Elizabeth B.June 6th 1830 No Information
James B.July 7th 1831 Buried with Parents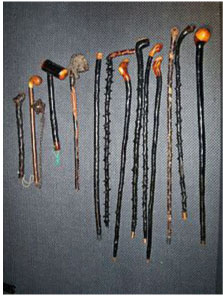 Blackthorn Shillelaghs used for faction fighting
Bill Martin Oct. 2014